Dreamcatcher´s Rising Diamond Dust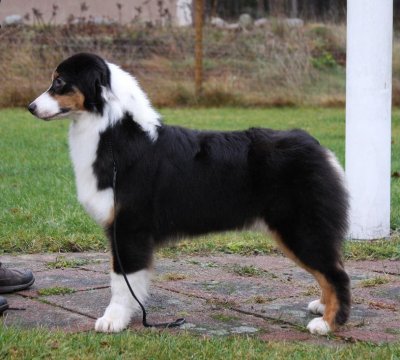 Maja at 8 months.
Born: 20130306
Black tri, NBT
Scissorbite with full dentition
Mentalitytested and passed the shootingtest (2:a)
Showned in juniorclass with several CAC, BOS, BOBj and BISj placements.

Maja comes from Britt Siegstad and Kurt Olsen, kennel Dreamcatchers in Denmark. We are so very happy and greateful for the possibility to have Maja here with us. She is a daugther of our co-owned Star (Risingstar´s High Hope for Östra Greda).
Maja is a dog with a huge personality, she is a hard lady and in many situations very brave - maybe sometimes to brave for her own good. She is playfull and loves to carry things in her mouth. In her mouth You can find everything... This is a dog with high energy, no problems to relax but can sometimes need a reminder to do that.
She is quite big, lots of bones and moves very well. Her head we could prefer a bit stronger but will probably improve a lot since she is still just a litle puppy. Behind Maja there are dogs that we really like, not only her father. Majas mother Noodles is a girl we fell in love with for some years ago and the grandparents Creed and Lara are dogs that we are happy to own a relative to.
We do really love our crazy Maja, we will never be able to thank Britt and Kurt enough for her.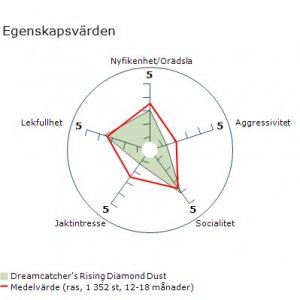 Sire:  SE JW-12 SE W-12 Risingstar´s High Hope For Östra Greda
Sire:  GR CH US CH ASCA CH Risingstar´s Im a Celebrity
Sire:
Dam:
Dam: Risingstar Wildfire of Legacy
Sire: 
Dam: 
Dam:  BIS DKCH Dreamcatcher´s Wind Crime
Sire: US CH DK CH KLB CH JW-07 KLW-07 Halfmoon Full Of It
Sire: US CH ASCA CHMcMatt´s EZ Going
Dam:  US CH Westridge Panache
Dam: DK CH KLB CH NORD JW-04 KBHV-04, 05, 06, 07 Iverness Lara Croft 
Sire: US CH Briarbrook´s Final Answer
Dam:  US CH Iverness Vanity Fair