BIS BISS C.I.B DK CH NO CH US CH Caliquins Center Ice
Red merle white and tan, NBT
*20090323
Importerad from USA
HD: AB (Good) ED: 00 (Normal)
Ögon u.a -09, -10, -12
Scissorbit with full dentition
MDR1 +/+ (normal/normal)
HFS4 free/free (ej bärare av genen för de vanligaste kataraktformerna)
DNA-testad PRA (prcd) free/free
DNA-testad CEA free/free
Mentaltested and passed the shootingtest (genomgånget MH med 1:a på skotten)
Shown with several CAC, CACIB and BOB. Group- and BISwinner. Placed on the dog-of-the-yearlist 2012 in Sweden and in the Norwegian dog-of-the-year list 2013. Specialitywinner.
Crosby kom till oss från vår vän Peggy Faith (Caliquins Australian shepherd, USA). Peggy arbetar som räddningshundsförare och deltog bland annat med sin aussie som internationellt räddningshundsekipage vid katastrofen den 11 september. Då Peggy av hälsomässiga skäl valt att minska sitt hundantal erbjöd hon oss att ta över Crosby. Så i februari åkte vår goda vän Jenny Hall till USA för att hämta Crosby.
Crosby är en stabil, social och arbetsvillig hund. Han är miljöstark och har goda nerver. Relativt lågtempererad med stort mod och lätt att fokusera. Positiv och välfungerande i familj, vardag och i arbete med en bra av- och påknapp och obefintlig stress.
Han MHbeskrevs efter fem veckor i Sverige (vilket vi nog egentligen tycker var alldeles för tidigt) av beskivare Carina Melanoz.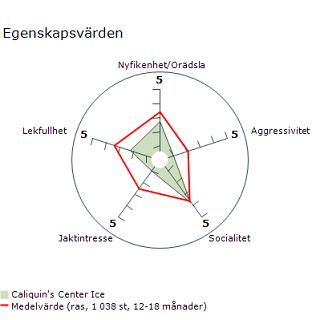 Sire: GCH CH BIS BISS Harmony Hills Money Talks
Sire: Justamere Rockin The Rockies
Sire: CH Aladdins Rock our World
Dam: Spring Fevers Great Expentations
Dam: CH Harmony Hills True Lies
Sire: CH Harmony Hills Pay Per View
Dam: CH Trouble Brewin At Stormridge
Dam: CH Caliquins Dawn Early Light NA NAJ ROMI
Sire: CH Arboretums Ilex Montana
Sire: CH Terra-Blue Just Too Hot
Dam: CH Accolade A Toute Vitesse
Dam: Threepines Image Of Bayshore
Sire: CH Paradox Dichotomy Of Bayshore
Dam: Bayshore All That