MultiBIS C.I.B NOCH DKCH HEW-12 FIW-12 NOW-11 DKW-12 NORDW-12 KBHV-13 SEW-13 NOW-14 SEW-14 SEW-15 NORDW-15
Northbay Rock on Summit
Blue merle white and tan, NBT
*20100123
Imported from USA
HD: AA (Exellent) ED: 00 (Normal)
Eyes clear -10, -11, 13
Scissorbit with full dentition
MDR1 +/-
HFS4 free/free (ej bärare av genen för de vanligaste kataraktformerna)
DNAtested CEA/crd free/free
DNAtestedPRA (prcd) free/free
Mentalytested and passed the shotingtest (2:a)
Several CAC, CACIB and BOB in different countrys. Multi group- and BIS-winner.
Jagger är drömmen som blev verklighet, ibland ter sig livet inte som planerat, det är också anledningen till att Jagger nu mer bor hos oss, vi är så innerligt tacksamma mot Eike Fokkens för att vi fått förtroendet att förvalta denna fantastiska hund.
Jagger är en positiv, glad och okomplicerad hund, lättsam mot människor och djur likväl som i olika miljöer och situationer. Han är nyfiken, stabil och lättmotiverad med mycket kamplust och förmålsintresse. Dessutom är han är tålmodig och älskar barn och valpar.
Jagger är född hos Heather Parson Herron, Northbays Australian shepherds i USA.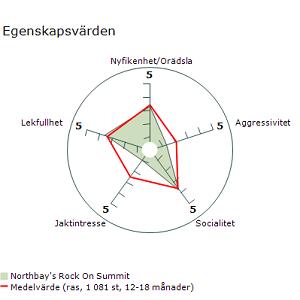 Sire: US CH ASCA CH Vinelakes Blackjack RF
Sire: BISS HOF ASCA CH US CH ROMX 3 CH. Stormridges He's All That TDI CD
Sire: US CH Harmony Hill's Hunt Country
Dam: Chloes Impressive Review
Dam: Darwin Manape Allthatmatters CGC
Sire: ASCA CH US CH CA CH HOF Paradox Propaganda
Dam: Sunmade's Baby Ruth
Dam: US CH ASCA CH
Northbay's Look Who's Talkin' RF
Sire: Northbay Westridge Brass Kmotion
Sire: US CH Blue Isle Dancin On Fayblehill DNA-CP
Dam: Northbays Bewitched In Brass
Dam: US CH Northbays Xquisite
Sire: US CH Inverness Just In Case NA NAJ
Dam: US CH Northbays Treasure Th' Moment