Caliquin True Grit at Ostra Greda
Black tri 
*20121031
HD: AA ED: 00
Eyes clear -12, -14
Full dentition scissorbite
HFS4 free/free (bär ej gen för de vanligaste kataraktformerna)
MDR1 +/?
Mentaltested and passed the shotingtest (2:a)
Showned with CAC
Duke is our second dog from Peggy Faith Caliquin´s Aussies, she is also the breeder of our Crosby. Duke is a very social and happy boy, the is a dog that always makes us laugh, he has humour.
He is an easymotivated dog that loves to work and is capable of working for long time without giving up. He is quite hightempered - an attentive dog - and has a lots of energi. He is not a stressed dog but a dog that is easy to work with, the work is enough reward for him. When he is working he is really focused on that. When relaxing - he is really focused on that ;-). Its an easy going boy.
He is a physical and uses his body a lot, he is hard in the temperament in that way that not much makes him unsure. He is a confident dog. Brave and not afraid of shots or high noises, very secure in all kinds of environment.
He is strongly build with good bone and a strong topling, he is a litle straight in the rear angulation but has a wonderful sidegait. His front is very good. He carries a lots of coat, has a strong, masculine head, maybe a litle tight between the eyes. Like his relative Crosby he has a long and wellcarried neck.
Duke is father to the winning puppy at our aussiespeciality this year!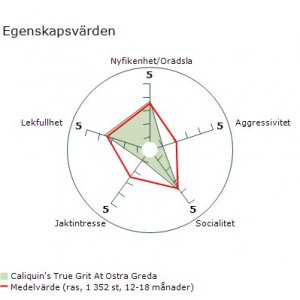 Sire: US CH ASCA CH Caliquins Victory At Dawn
Sire: US CH ASCA CH TeAmo´s Infinite Victory STDs
Sire: US CH McMatts EZ Victor
Dam:  Timberwood´s Secret Tux No Tails
Dam: CH Caliquins Dawn Early Light NA NAJ ROMI
Sire: CH Arboretums Ilex Montana
Dam: Threepines Image Of Bayshore
Dam: US CH Sonrise Standing on the Promises
Sire: US CH Sonrise Ever 'N Ever Amen
Sire: US CH Rosmere´s Bleu Bayou
Dam:  US CH Treepine´s B´Gosh of Bayshore
Dam: US CH Bayshore Dance Fever
Sire: US CH Blue Isle Dancin on Fablehill
Dam:

US CH Treepine´s B´Gosh of Bayshore