BISP SE JW-15 Östra Greda Sex on the Beach
*20140228
Blue merle white and tan
NBT
HD - AA ED - 00
Eyes clear -14
Full dentition scissorbite
DNA-tested: HFS4 free/free
DNA-tested: CEA free/free
MDR1 -/
Shown twice as a puppy, both times BIS-puppy, as a junior showned with several CAC, BOB and groupplacements in different countries.
Mentaltested and passed the shotingtest (1)
Thriller is a happy fellow and comes from Carlys second litter. He is a easy going, social and playful. He likes to carry things in his mouth and do have a nice praydrive and easy to motivate.
He is stabile and have not shown any signs of fear in any situation, he is on the harder side in the temperament and quite high in temperment. He has very easy to comunicate and easy to relax. He is physical, fast and atletic.
He is a mediumsized male with good substance, strong topline and well angulated in front and rear. He has a very nice sidegait and clean coming and going.
We have big hopes for him, lets see what the future will bring.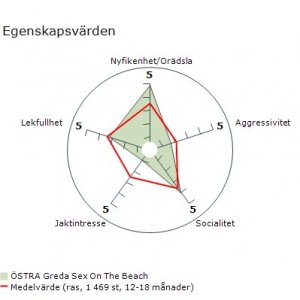 Sire:  MultiBIS MultiCH MultiW Northbay´s Rock on Summit
Sire:  AKC CH Vinlake Blackjack
Sire:  CH HOF ROM IX Stormridge He is all that
Dam:  AKC CH
Dam: 
Sire:  AKC CH
Dam:  AKC CH
Dam:   MultiCH Harmony Hill´s Shake and Bake
Sire:  

CH HOF ROM IX Stormridge He is all that

Sire:  AKC CH
Dam:  AKC CH
Dam:  AKC CH Crofton Hopscot ROMI
Sire:  AKC CH.
Dam: